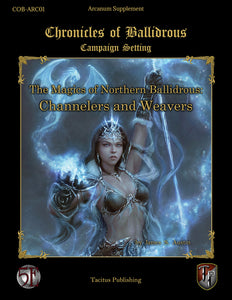 The Magics of Northern Ballidrous: Channelers and Weavers is an Arcanum Compendium offering the new subclasses for the Elementalist with 185 new spells.
- two subclasses for the Elementalist, for cleric and sorcerer.
- a complete spell list for each aspect: air, earth, fire, water.
- usable for any 5th edition campaign.
The essential building blocks to all that exists within the Material Realm consist of the four fundamental elements of air, earth, fire, and water.  The world of Enolia emerged from these elements and remains imbued with its everlasting impetus.  The people sprawled across its vast lands have learned to manipulate these base aspects, from the simple spark to grand displays of whirling bonfires.  

The Chronicles of Ballidrous Campaign Setting relies heavily on accessing elemental magic to run an adventure with depth and flavor.  This book grew from this obligation to broaden the scope of magic, to compliment the available material.  The first sections are dedicated to the setting, to include cosmology and a brief breakdown of the core religions in northern Ballidrous.  This will aid in understanding the principles and sources of magic.  The remainder discusses two new subclasses for the Elementalist with reference lists and descriptions of new spells to complete the expanded Elementalist's spell lists.