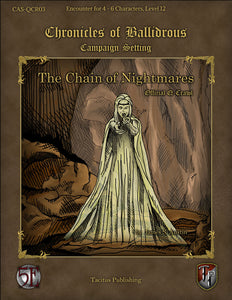 The distant rocky outpost once known as Painter's Peak was bolstered long ago to garrison a reconnaissance force and renamed Hollowrock Stronghold. But its recorded history as a quiet defensive position protecting the Tressian border never mentions its then sinister purpose. When the lands were under the Greater Tres Empire's rule, the stronghold imprisoned high-value captives during the Silver Skirmishes. The stone fortress conceals prison cells and the specialized tools to extract guarded secrets underneath its unassuming walls. Thought abandoned by the empire centuries ago, one secret still endures. The spirits of this nightmarish place usurped their transgressors and remain to this day to torment those who dare trespass.

The Chain of Nightmares is a Q-Crawl, or Quick-Crawl, that can be run for a group of four to six players with 12th-level characters.  This crawl would be considered a 'medium' to 'hard' encounter.
Q-Encounters are designed to drop into your game where needed.  They are meant to add flavor to a campaign, giving a little depth to a combat encounter.
Included is a VTT map for use.
*** The is in PDF format, downloads upon purchase.