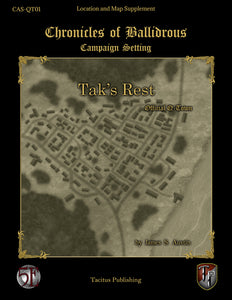 Tak's Rest stands among the few settlements in the surrounding valleys nearest the city of Castiel to blossom into a flourishing town after the Empire's annexation of the kingdom.  Sitting on the Rebrett River, offering a barge service to cross, Tak's Rest is a central waypoint for passing traders and traveling adventurers.

Tak's Rest is a Location and Map Supplement for use with The Chronicles of Ballidrous Campaign Setting or a setting of your choosing.  This product offers a functional town with supporting maps and details about the town and surrounding community: including 39 maps, 30 quick-reference NPCs, and material to shorten prep time.
Map and Location supplements aid the Dungeon Master in worldbuilding and having material at their fingertips.  TAk's Rest includes these locations:
Tak's Rest Inn
Common Hall
Fat Kat Brewery
Town Market
Townhall
Temple of the Old Gods
Wheat Farm
Memorial
Shrine of the Howling Larks
Ember's Lodge - Currier Station
Blade's Outpost
Fort Mazek
Plenty of material to pillage!
*** The is in PDF format, downloads upon purchase.