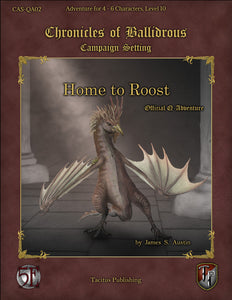 The Roustern family crypt has long sat unmolested in a cleverly hidden cut in the Saberandi Mountains.  The underground tomb is home to their celebrated ancestors, a bloodline of gifted sculptors and stone cutters.  In a manner befitting the family legacy, the inner chambers were fashioned with the precision and elegance these artisans became noted for among the kingdom's elite.  Beautifully chiseled life-like statues.  Grand columns and walls decorated with ornate braids of ivy and delicate flowers.  Flowing reliefs of dancing fauns and graceful sprites in full celebration.  All to culminate in elaborate scenes of magnanimous glory and paralyzing rapture to fill your view.  And, as a final nod to the craft's secrets, shrewd traps to protect the inner sanctum from irreverent intruders.  The task presented is a simple one... to intern one of their own.  But nothing is ever that simple.
Home to Roost is a Q-Adventure, or Quick-Adventure, that can be run for a group of four to six players with 10th-level characters.  The adventure takes place to the north of the city of Castiel.  The runtime is about 4 hours and is Exploration Themed.
Included are VTT maps for use.
*** The is in PDF format, downloads upon purchase.