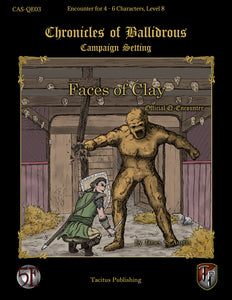 After a house fire tragically took the lives of a young family, their farm found itself left to the devices of the pasture's fae inhabitants, a band of ruddy brownies.  The capricious creatures quickly deduced, absent their human counterparts, their morning deliveries of cream would cease.  After a heartfelt moment of loss, they realized that the cow penned in the barn afforded the answer to their problem.  Making a new home in the barn's hayloft, the brownies settled in.  They used the farm's clay golem to handle the manual chores and to keep out intruders while they enjoyed their sudden good fortune. 
Faces of Clay can either be used as a role-play or combat encounter, ranging from medium to hard in difficulty for four to six players, averaging 8th level.


Q-Encounters are designed to drop into your game where needed.  They are meant to add flavor to a campaign, giving a little depth to a combat encounter.
Included is a VTT map for use.
*** The is in PDF format, downloads upon purchase.