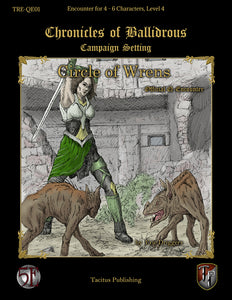 The Fantastic Stables of Abbad-Il, known throughout the region for breeding and training the majestic Androshir, have encountered trouble delivering their prized horses to the royal auctions in Inna-Bogarta.  Bandits have been ambushing their caravans, seeming to know every move the Abbad-Il makes.  The situation escalated after Rasnan Abbad-Il's son was injured in the last theft, the third of its kind.  For the persons who can safeguard his horses, Rasnan is willing to reward them handsomely.
Circle of Wrens is a combat encounter, ranging from 'medium' to 'hard' in difficulty for four to six players, averaging 4th level.
Q-Encounters are designed to drop into your game where needed.  They are meant to add flavor to a campaign, giving a little depth to a combat encounter.
Included is a VTT map for use.
*** The is in PDF format, downloads upon purchase.