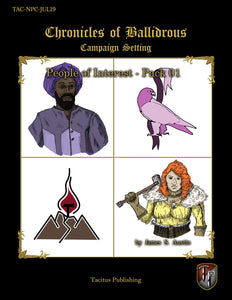 Chronicles of Ballidrous - People of Interest - Pack 01

In this campaign setting's style of adventuring, it can be all about 'who you know'.  Offering a little of the old school element, People of Interest (POIs) are incorporated into the game as contacts for the characters.  They can aid in information gathering, quest givers, and/or as trainers to add flavor to character leveling.
Pack 01 includes - mercenary, city guard, paladin, head of an orphange, merchant, and scrivener.
 *** The is in PDF format, downloads upon purchase.