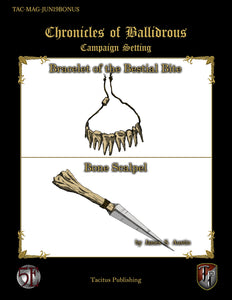 Chronicles of Ballidrous - Magical Items - Bracelet of the Bestial Bite & Bone Scalpel
This Magical Item release includes adds two additional new items to support the new cleric archetype, the Bone Collector.  The Bracelet of the Bestial Bite puts a 'nip' in your punch.  The Bone Scalpel makes the art of medicine less a struggle for those especially bloody moments.
Also included are Magical Item Slips for use.
*** The is in PDF format, downloads upon purchase.