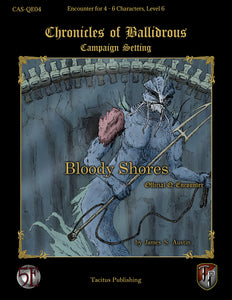 The craggy coastline along the Can Sea makes for an awe-inspiring sight.  Towering rock formations surrounded by crystal-blue waters stretch across the horizon.  The landscape instills a serene wonderment at its otherworldly design.  But not all is as it seems, as even a pebble can create ripples of change.  A savage past threatens to reemerge in this picturesque backdrop, from under its hidden depths, to promise crimson waves along its peaceful shores.
Bloody Shores is a combat encounter, ranging from medium to deadly in difficulty for four to six players, averaging 6th level.
Q-Encounters are designed to drop into your game where needed.  They are meant to add flavor to a campaign, giving a little depth to a combat encounter.
 Included is a VTT map for use.
*** The is in PDF format, downloads upon purchase.