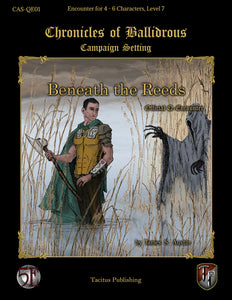 Beneath the Reeds is an encounter stemming from a necromantic circle's energies being renewed as a result of a fae 'burial harmony' taking place in the surrounding waters.  Death may be inevitable, but undeath is only an unfortunate step away for the unprepared.

Beneath the Reeds is a Q-Encounter, or Quick-Encounter, that can be run for a group of four to six players with 7th-level characters, ranging from medium to hard in difficulty. 
Q-Encounters are designed to drop into your game where needed.  They are meant to add flavor to a campaign, giving a little depth to a combat encounter.
Included is a VTT map for use.
*** The is in PDF format, downloads upon purchase.